Our Strategy
AMA | Rochester is the only local association providing vibrant marketing programs, networking opportunities, a collegiate awards and student volunteer opportunities to our future young marketing professionals in Western New York area universities and colleges. AMA | Rochester supports WNY AMA Collegiate Chapters and marketing clubs not affiliated with AMA Collegiate Chapters. AMA | Rochester Collegiate Relations organizes the annual Rochester Professional Chapter Collegiate Conference with sponsoring Universities, Colleges and Professionals in WNY.
AMA | Rochester Collegiate Relations provides Western NY universities and colleges' Business programs access to our professional members and AMA | Rochester programs as a viable networking and educational training opportunity for the future young professional marketing leaders. The Collegiate Conference one day event is organized around key note speakers, professional discussion panels, company sponsored student marketing campaign, marketing campaign cash award, career fair, and resume/career advisors.
What We Do
Promote AMA | Rochester programs with area universities and colleges to strengthen the relationship with academic deans and faculty, and the AMA Professional members.
Continue to expand viable partnerships with area universities, colleges and professionals in Western NY.
Chair the AMA | Rochester Regional Professional Chapter Collegiate Conference by partnering area universities, colleges, business professionals and companies.
Provide students with tangible experience through the Student Marketing Campaign Competition as part of the Annual Collegiate Conference.
Chair and expand area senior professional marketers' and area business involvement with the Annual Collegiate Conference.
Maintain and update the student marketing campaign award entry application, judging evaluation criteria, and organizes the judging team from the sponsoring company.
Provide student volunteer opportunities at AMA Rochester monthly events and networking events.
We connect students with career opportunities.
Every year that I've attended the AMA Rochester Collegiate Relations conference, I've met such driven, professional, and focused students; so much so that not only would I consider a large majority of them to interview, but we've actually hired several of them! The conference is well designed and is super-efficient, which makes the time enjoyable for employers and not an inconvenience. The organization gives students an opportunity to focus in on their interests and creativity to prepare them for the real world after graduation. This experience is extremely valuable and employers like us are looking for that on resumes and it can make the difference between a hire and a rejection. I've already connected with multiple students and we have one coming in to interview next week!
-Drew Fedczuk, Director of Personnel, CGI Communications, 2019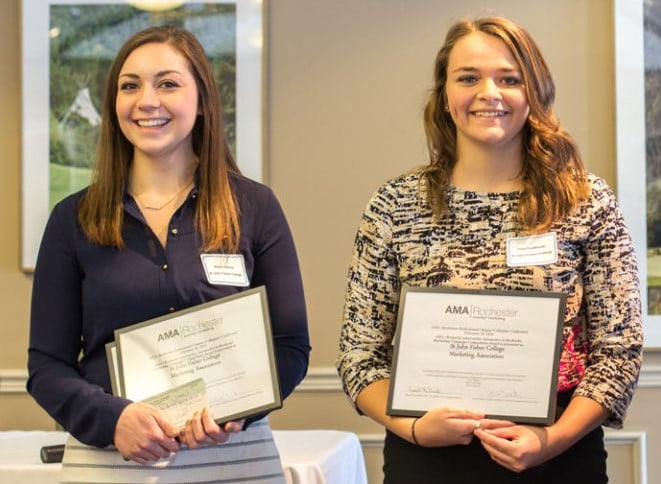 Get Involved
We are always looking for ways to connect to more students and businesses in the greater Rochester area. Whether you are a College Dean looking to enhance your student's experience, an agency looking to recruit top talent and interns, or a business interested in sponsorship benefits - we encourage you to reach out and learn more about the AMA Rochester's robust collegiate chapter has to offer.
Contact VP of Collegiete Relations
Russ McDonald
RussMcDonald@ama-rochester.org