January 13, 2013 by AMA | Rochester
What's your favorite Super Bowl commercial gonna be?
Join our review on Wed, Feb 6 at 4 p.m. with John Kucko

When I asked a few non-marketing people what their favs were from years past were, it was like a trip down the advertising hall of fame.
"I always loved those Budweiser horses playing football," said my friend Paul.
"Nothing beats that Doritos baby from last year," said Amy.
"I really loved the little Darth Vader kid from Mercedes or Audi," said Linda. (It was from Volkwagen, Linda! Come on.)
For many people, the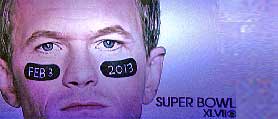 game is often eclipsed by the commercials. Despite the rumored death of the :30 TV spot, people love to watch entertaining, engaging commercials. And why not? Companies are putting a lot of thought and money into these short films. They become brand flags that get carried throughout the rest of the year. Rolled out online in hundreds of ways. And talked about around the water cooler, the beer fridge, the wine bar and even the conference room table.
For 2013, many of this year's brands will look familiar.
Anheuser Busch In Bev. Audi. Doritos. Pepsi. Toyota. Best Buy. Cars.com. And yes, Go Daddy. Yet they're all trying to do something new, fresh and memorable. Check out this roundup from Ad Age
Local Pros Kick it Around
For the second year in a row, your local American Marketing Association chapter is hosting a "booth review" of the Super Bowl spots featuring local advertising and marketing experts. And you're invited to chime in.
When? Wednesday February 6, starting at 4 p.m. to 5:30
Where? Pomodoro on Monroe Ave (Pittsford)
What's the Hype?
It's the game within the Game. Marketing's biggest stage. Where the price of failure far more than the cost of a 30-second spot. You, and everyone else probably think you know who won. Come join a lively discussion about 2013's Super Bowl spots, with our expert panel.
Who's on our Panel?
Mike Baron – partners + napier
Tom Proietti – St. John Fisher College
Ferdinand J. Smith – Jay Advertising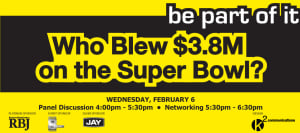 How do you register? Click here
Members: $25 / Non-Members: $40. AMA | Rochester Member table — Sign up 4 non-member colleagues and your entry is free. (AMA | Rochester member only benefit)
Editor's Note: A special thanks go to our sponsors.
Event Sponsor: News 8 | www.rochesterhomepage.net | @news_8 | www.facebook.com/News8wroc
Silver Sponsor: Jay Advertising | www.jayww.com | @jayadvertising | www.facebook.com
Register: Click here